Thinking about enhancing your data protection competencies?
Whether you are starting from scratch or formally trained, the Data Protection Excellence (DPEX) network offers a roadmap of courses that will cater to various data protection needs.
Data Protection / DPO Hands-on course
The baseline course that we recommend all our participants to take is the DPO Hands-on / Data Protection Hands-on & Cybersecurity (available in Singapore, Philippines, Malaysia, and Thailand) course.
These workshops cover not only the "what" of the local data protection law but also the "how" to comply as well, which is not often addressed by many such courses. Upon completion of the course, you will get a Proficiency in Data Protection and GRC (Governance, Risk Management and Compliance) awarded by OCEG.
OCEG is a nonprofit think tank that invented the concept of Principled Performance and GRC to solve age-old organisational problems. It is dedicated to achieving a world where every organisation and every person strives to achieve objectives, address uncertainty and act with integrity.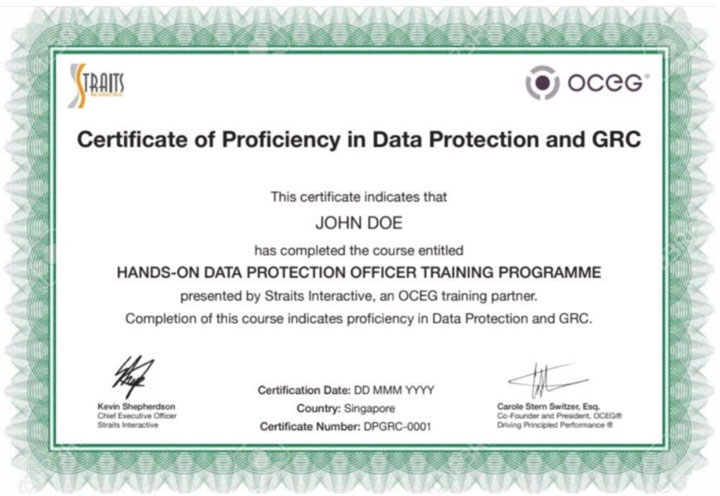 This course (available in Singapore, Philippines, Malaysia and Thailand) gives you 3 different roadmaps:
Data Protection Learning Roadmap - 4 Different Routes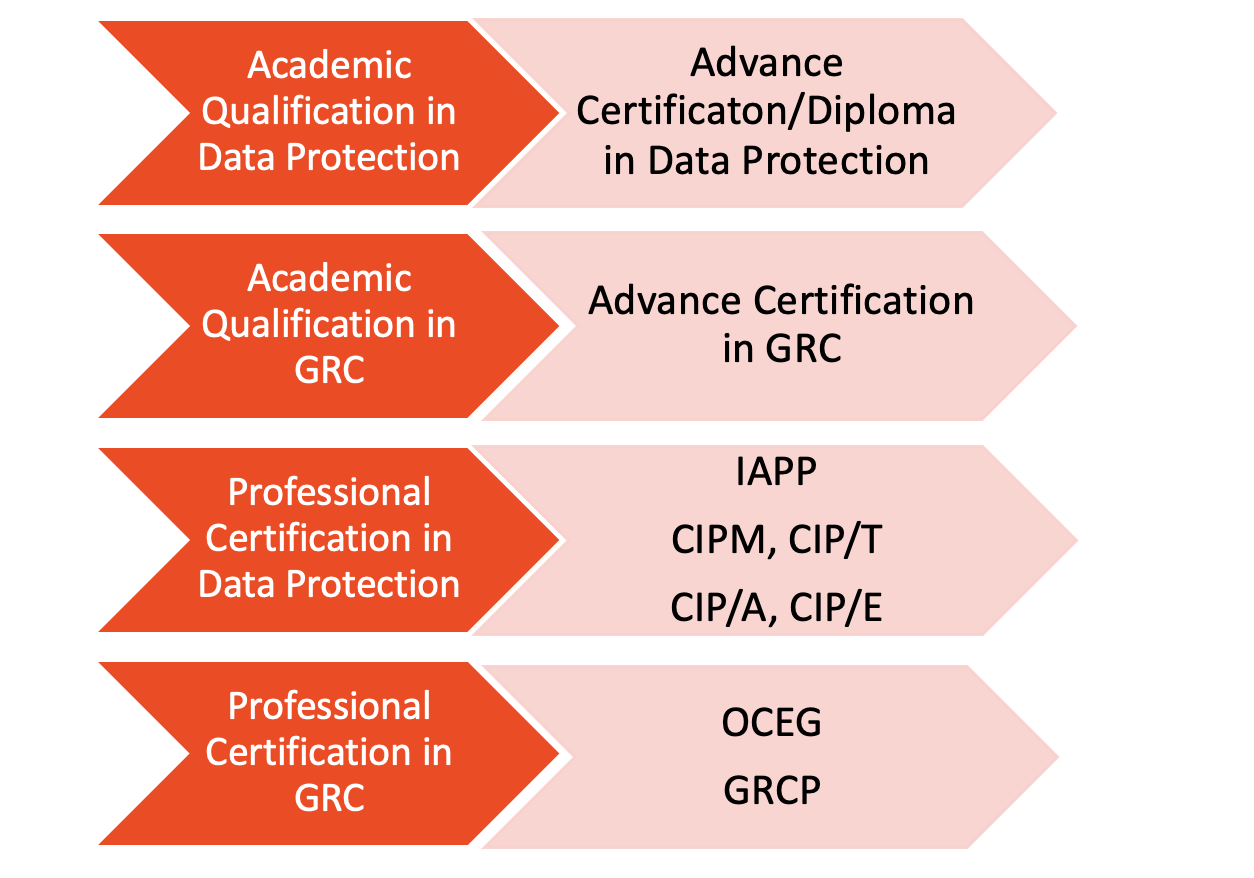 You also have the flexibility to take any course you want according to your needs, with the assurance that there is a right competency roadmap available. Browse our catalog of courses available in selected ASEAN countries.
Academic Qualifications Route
When you complete the DPO Hands-on Course, you can opt to further your data protection competency and knowledge by going for courses leading to an Advanced Certificate/Diploma/Degree from our DPEX Partner universities. These courses are modular in nature, meaning that you can take them at your own time and pace over a period of time to complete the various requirements. The following programmes are currently available:
Singapore: Singapore Management University Academy -

Advanced Diploma in Data Protection

, made up of:
Philippines: De La Salle University (DLSU) - Coming soon

Advanced Diploma in Data Protection Excellence

Master Degree Programme (Specialised in Data Protection)

Malaysia: International Islamic University of Malaysia (IIUM) – Coming soon
Professional Certification Route
After completing your DPO Hands-on Course, you might want to go for professional certification with the International Association of Privacy Professionals (IAPP) if you feel that you already have the data protection competencies as a DPO or compliance officer. The IAPP is the largest and most comprehensive global information privacy community and resource. Founded in 2000, the IAPP is a not-for-profit organisation that helps define, support and improve the privacy profession globally. The IAPP certification is recognised worldwide by regulators and is the benchmark certification for data privacy professionals.
The following certification courses are available:
Governance, Risk Management & Compliance (GRC) Route
The data protection practice covers GRC in a specific area. It involves the governance of personal data within your organisation. It also involves managing risks in processing personal data to ensure compliance with local data protection laws. The roadmap provides an avenue for those who successfully completed the data protection hands-on courses and who want to expand into the broad area of GRC.
The following courses are available:
Guide to Taking Courses in the DPEX Network
See the following tables for a quick overview of what courses to choose based on your competency level as a starting point.
Data Protection Officers, Data Protection/Info-security Professionals, Career Switchers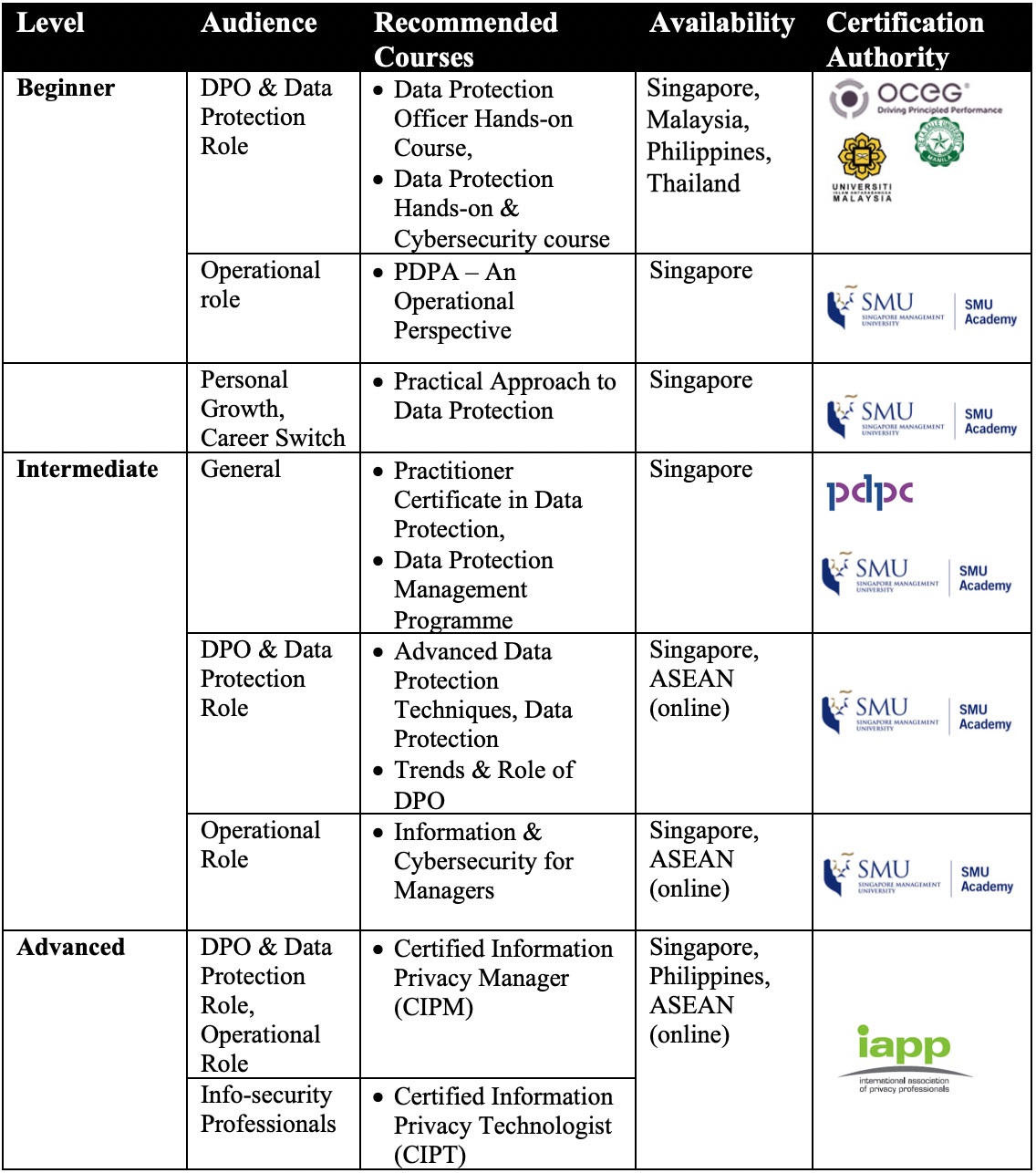 Legal and Compliance Professionals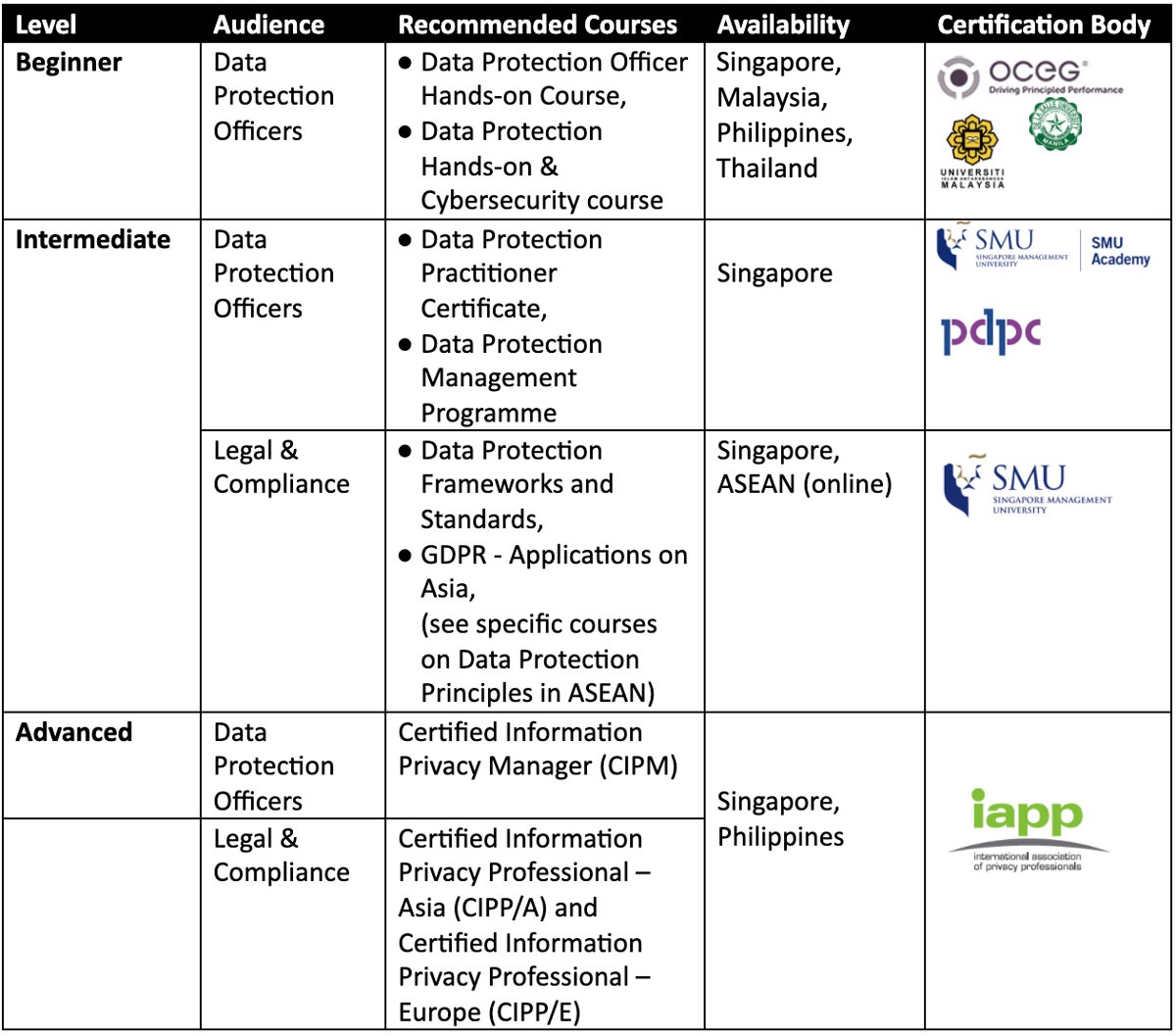 Write to us at courses@straitsinteractive.com should you need advice.