With the rapid evolution of technology and digitalisation, it is evident that working professionals have to constantly keep updating their skills with the latest trends and industry development. Along with remote working, remote learning has also been increasingly popular as a means to upgrade one's professional skill set.
First, the professional should ascertain if he/she really requires the knowledge or skill and can the skill be informally acquired by on-the-job experience through "doing", i.e. determine the purpose or objective of acquiring the knowledge. Usually, the recognition skill or knowledge in a professional field requires the competency to be certified by a known accreditation body, which comes with certain assessment requirements such as project work or examination. This has to be considered with care as any formal upgrading of skill would require investing time, effort and expense.
Secondly, determine the approach or method of acquiring the knowledge and skill. Usually by attending courses (live sessions). The pandemic is a catalyst for self-paced learning online which extends the capacity beyond a physical class, online learning with trainers is still subject to the constraint of the span of attention that the trainer can accord to participants.
Professionals who wish to formally upgrade their skill are discovering that if one has been a practitioner in the field for some time and require formal learning and recognition of such knowledge, self-paced learning (or self-study) programmes is a feasible option. Such programmes are widely practised in some professions such as accountancy, audit, financial planning and even IT. In fact, various educational institutions, including Harvard, Yale and the National University of Singapore (NUS) are offering online courses and certification upon passing an assessment. Singapore University of Social Sciences (SUSS) requires its students to self-study and complete pre-course assessments before class, which enables students to have a basic level of knowledge and allows for more fruitful discussions to expedite the learning curve.
Self-PACED Learning BENEFITS
Self-learning is a viable way to be certified professionally because of the following advantages:
Choice of the pace of study - one can choose to study at a pace one is comfortable with. One can approach it in accordance with one's own level of knowledge, experience and in some ways, cater it to his or her own needs/
Less stressed by peers - In a self-paced environment, one can exercise the choice of doing a course alone or with peers. If one is stressed by peers in a "competitive environment", self-study can be attractive.
Not constrained by physical space or time - In a self=study programme, a person can do it in the comfort of his own home and own time.
Less costly - Self-study programmes are usually less costly than other training options.
Responsive to changes - In the field of technology and risk management where processes are evolving quickly, laws are being amended to better protect the interests of people. It is useful for professionals to continue upgrading their skill study and keep pace with the changes in governance, risk management and compliance as well as data protection as this will affect their companies' operations and the roles and responsibilities that they hold.
In short, there is greater flexibility in the way that an individual can choose to plan their study schedule in enabling them to stay relevant to the industry. This allows the individual to balance between their work, personal life and engaging in self-improvement activities.
self-paced learning limitations
Self-paced learning does come with its disadvantages, namely:
It depends very much on one's motivation and discipline. It requires time management, which a trainer can help to manage.
The lack of input from the trainer. If the person is unfamiliar with the subject without any face-to-face explanation, it might be hard for the individual to understand and grasp the concepts easily.
Not only does one do without a trainer, but one has to do it alone (unless one can arrange to participate in the self-learning programme with friend/s). The lack of face-to-face interaction may be a disadvantage to some who find it better to learn with peers.
In some ways, self-paced learning may be rigid and impersonal. For example, one does not have a face-to-face interaction to have a negotiated deadline for projects, discuss ideas etc.
It is not just that lack of flexibility at the social level, but self-learning does not give one the peripheral support e.g. resources, networking, forum, though DPEX Network can mitigate this disadvantage.
Self-paced learning may not be suitable for every topic. E.g. hands-on data protection courses with online access to databases and software would be less suitable for self-learning mode
In short, the biggest disadvantage of self-learning is that there is a lack of face-to-face interaction and instructors to provide the individual with relevant feedback on whether the understanding of the subject is correct. This can be mitigated with the help of a trustworthy platform where learners can go to obtain credible resources developed by professionals and engaging in courses from a reliable certification body, for example, DPEX Network or PECB.
What is required when self-learning?
One should have a clear purpose or objective for doing a self-learning programme. It is necessary to do some research on the courses available and evaluate if a self-learning programme is suitable based on the nature of and one's familiarity with the subject/topic.
Then the individual should source for a reliable provider of the self-learning programme and ascertain if the skill and certification is recognised internationally. After all, the investment in learning should bring about a credible return by upskilling professionally.
Given the nature of self-paced learning, it would also be useful for individuals to have a platform, for example, forums, where they can ask questions, discuss with other like-minded individuals interested in the same topic and possibly even get their answers from experts in the field. This speeds up the individual's learning curve and ensures that they are on the right track.
The individual himself/herself should stay focused on the objective of doing the self-learning and maintain a high level of self-discipline, carefully plan and create a study schedule that caters to their learning needs.
There are 2 main factors why self-paced learning will become increasingly significant in skill upgrading:
The pace of development in data protection, governance, risk and compliance management is accelerating and the demand for such learning will increase.
The capacity, both in terms of qualified trainers and facilities may not be able to keep pace, especially with the pandemic.
Professionals in the field of data protection and GRC will have to turn to self-learning in order to upgrade their skills and knowledge.

DPEX Network is partnering with PECB
(an international certification body) in offering learning opportunities in the data protection and GRC field in the ISO programme for participants to enhance their skills and knowledge. Click here for the overview and roadmap.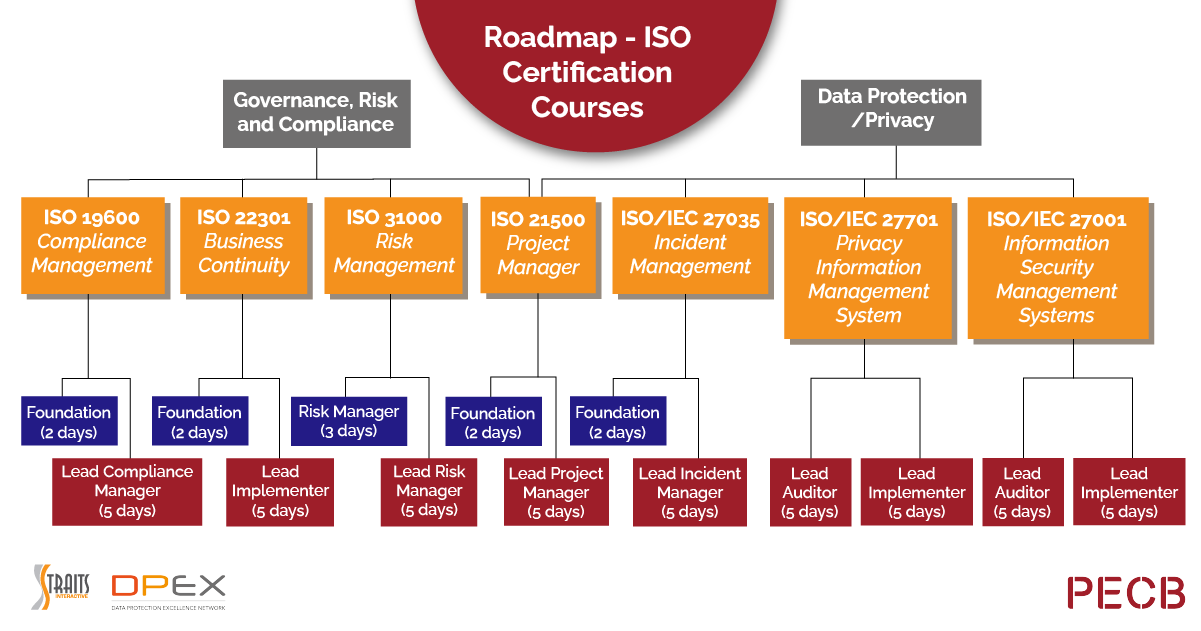 Click here for FAQ on the ISO courses.
Contributed by: Steffi Tay
edited by: Leong Wai Chong, Head DPEXNetwork, CIPM, GRCP
The views and opinions expressed in this article are those of the author and do not necessarily reflect the official view or position of DPEXNetwork.